I just uploaded some more pictures from the area of Berchtesgaden, where we spent a weekend in June to make a Via Ferrata course. Of course, I had my camera gear with me, as the course took place during the day which prmised enough time in the morning and in the evening…
We started at the lake Hintersee on the first evening. Although we were a bit late for the sunset, the dusk created some nice blueish colors. Due to the warm temperatures it was no problem to get into the lake to get a better composition (always supervised by my dog Charly :-) )
Hoping for alpenglow, we returned to the same location in the next morning, which was quite challenging, because the sunrise was at about 05:00 a.m. and we had to wake up at 04:00 a.m. Fortunately, the sky turned into dramatic red colors for a short moment, so we quickly forgot about the early alarm clock and enjoyed the play of colors. Even if the alpenglow was not as intensive as we hoped for, it was nevertheless a great morning and I was able to make a few good pictures. Furthermore, I met a photographer that I now from the German DSLR-Forum, which was really a nice surprise! I used one of the photos of this to explain my image processing workflow in a recent post, so it might look familiar to you!
After that we returned to our hotel for a quick nap and a good breakfast, before we went to the Via Ferrata "Isidorsteig" at the mountain "Grünstein". In the evening, we had a little theoretical lesson, for which reason we had to skip the sunset this day. However, we decided to drive the Rossfeld panoramic route later in the evening, hoping for some nice starscapes. The little wooden hut at the Ahornkaser alp offers some nice foreground interest. The last time we've been here in February 2012, there was so much snow so that it was quite hard to even find the hut – only the roof was visible… This time we had much better conditions and the approaching thunderstorm created a nice atmosphere. After several tries, I even managed to capture a little lightning!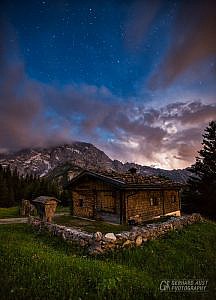 The next morning I went to the Church Maria Gern, from which you can see the famous mountain Watzmann. A nice location, but it seemed that used all my luck with the weather and the sunrise was quite colorless. I surely will give it another try, as Berchtesgaden is really a great location for photographers and people loving the mountains like I do! Have a look at my Germany | South gallery for more pictures!
---