Short trip to Hamburg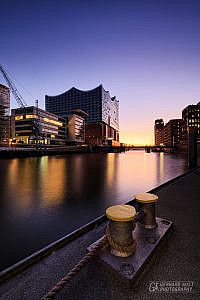 Just as last year, I made a short trip to Hamburg in the last week. This time I spent both days with paddling through various canals, while the evenings were (of course) dedicated to photography and delicious food – two activitivities Hamburg is quite suitable for :-)
As I already took photos of the Speicherstadt and the Landungsbrücken, I decided to shoot the new landmark of Hamburg, the Elbe Philharmonic Hall from the Harbour City on the first day and the futuristic Docklands building on the second evening. I was quite lucky and the colours during blue hour were really fantastic!
You can find the new pictures in my Germany | North Gallery.
After our stay at Hamburg, we spent the weekend at Usedom, so be prepared for some new shots from sunrise at the Baltic Sea and sea bridges soon!