It has been a long time, since I wrote the last post in my blog, because I am still working on the pictures I took in Patagonia :-) But some weeks ago, I received an e-mail which seemed to be a good opportunity to change this: Jane from sleeklens asked me to review their Landscape Adventure Collection, which is a set of 56 Adobe Photoshop Actions that shall support photographers by reducing the processing time of an image and is offered for $49.00 at the moment. They describe their actions as follows:
This collection includes every type of landscape photography action that you may need. From editing colors and contrasts to adjusting the temperature of your images, we give you everything you need to take your audience's breath away. We have worked with some of the best designers and landscape photographers from around the world, to ensure that all of the actions included in our "Landscape Adventure Collection" are professionally made, easy to use and also reduce editing time dramatically.
As this sounds quite promising and I'm always interested in new techniques, I agreed and received a free copy immediately. Before I start my own review, I would like to recommend you to have a look at this YouTube Video to get a first impressions of the functionality of those actions.
Installation & appearance
I received a .zip-file with the Photoshop-actions (.atn-file) and a short PDF-guide with some before/after-examples. The installation is quite easy and you only have to copy the actions-file into the correct folder of your Photoshop installation. The whole process is described in another YouTube Video. After this, you cand find the actions within your action panel, as you can see on the screenshot on the right. That means, you do not have a separate panel like it is offered, for example, by NikFilters. The various actions are classified into eight groups:
---
1. Exposure Actions
Brighter | Darker | Reduce Highlights | Brighten Shadows | Contrast
2. Base Actions
Expanded dynamic range | Standard | Morning Light | Low Contrast | Clarity | Dynamic Contrast | Autumn colors | Desaturated | Retro | Split tone | Basic
3. Tone Actions
Cinematic | This is cool | Red and blue | Blue and yellow | Color pop | Less color | Frosty | Dark and stormy
4. All in one Actions
Intense sunlight | Subtle Sunset | Warm Shadows | Hollywood splittone | Dull weather correction | Punch black and white | Expanded dynamic range | Subtle dawn | Calm sunset | Dawn rising | Soft golden hour | Super smooth | Shine into the sunset | Love me tender | Vivid pastel painting | Faded film | Deep cinematic
5. Enhance Actions
Dynamic sky | Sky enhancer | Detail enhancer | Sunset | Cool shadows | Warm highlights | Deep blue sky
6. Speciality
Dreamy Landscape | Dark dreams | Sunset flare | Digital image | Film grain
7. Temperature
Warmer | Cooler
8. Web File Preparation
Resize for WEB (custom size) on a long side | Resize for WEB 960px on a long side | Resize for WEB 2048px on a long side
---
Using the Photoshop actions
I will demonstrate the actions on an image I recently took during sunset at the beatiful Lake Oeschinensee in Switzerland, which I preprocessed in Adobe Lightroom (see my article about my image processing workflow for further information) and imported into Adobe Photoshop.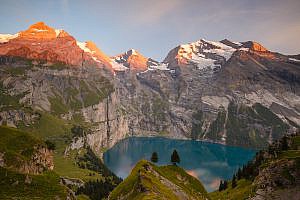 During preprocessing, I already made minor changes to the brightness of the image, wherefore I can skip the exposure actions. As always, RAW images look a little flat, and so I first want to increase contrast. Hence, I apply the action BASE Dramatic Contrast, which makes a really dramatically change of the image at first ("before"), which can be adjusted by reducing the opacity of the generated group of layers. Here, I set an opacity of 40% ("after"). In order to be able to apply another action, the layers have to be flattened, which unfortunately means that the changes cannot be made undone or modified easily.
Next, I apply BASE Clarity at an opacity of 30% for enhancing the microcontrast and overall sharness of the image.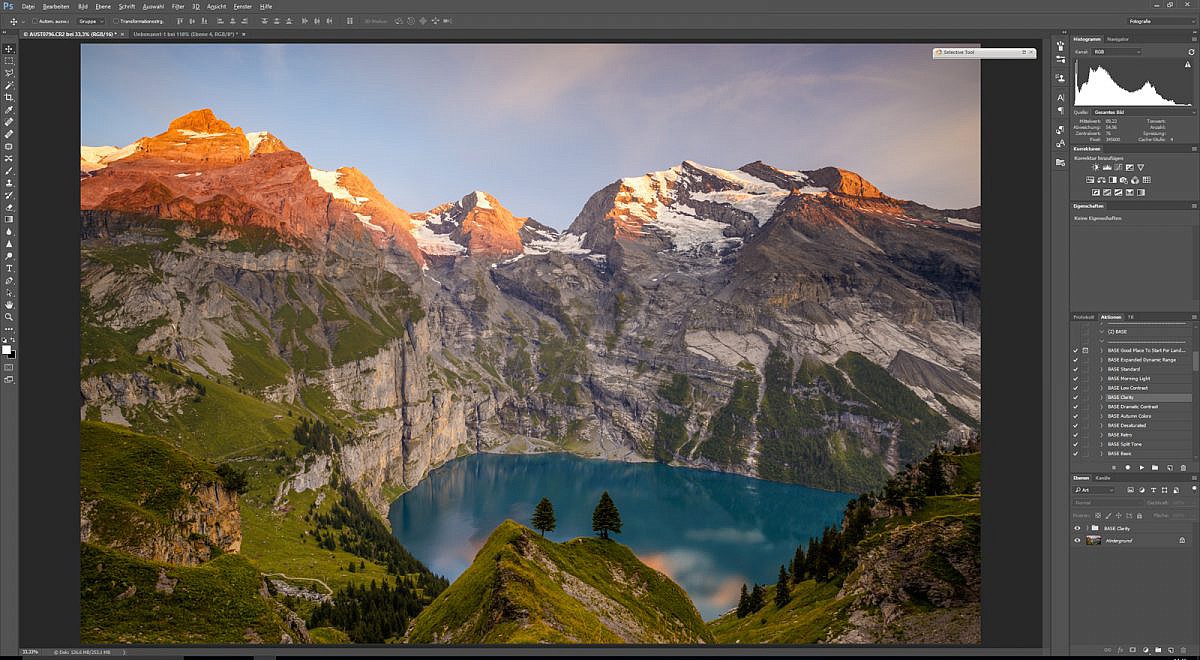 I think those two actions already did a very good job on that image for the moment and so I use WEB FILE PREPARATION – Resize for WEB (custom size) on a long side to save the picture at width 1200px. This action not only includes a scaling down of the picture, but also a sharpening. You can see the final image below as a before/after comparison with the preprocessed version of Lightroom:
Conclusion
It think the result is quite nice considering the fact that I only used two actions (out of 56!). Of course, every adjustment could also be realized with Photoshop's instruments and without those actions, but I could imagine that this set of actions is a good starting point for users who do not know everey single tool included included in Photoshop. Furthermore, there are some interesting actions within the groups TONE and ALLINONE, which I didn't use here because I wanted to maintain the natural character. During my experiments, I especially liked TONE Cinematic, ALLINONE Expanded Dynamic Range, and ALLINONE Deep Cinematic, but I'm sure that also the other actions could be useful depending on the image they are used on.
For me, there are only two drawbacks regarding the handling of the actions: First, the list of actions is quite long and might be a bit confusing at the beginning. I think it could be more convenient to have a real panel with groups / buttons for each action. Second, as I mentioned before, it is necessary to flatten the layers after each action in order to be able to apply another action, which makes it hard/impossible to alter the setting of a previous change. This could be a bit annoying when experimenting during the processing of an image without having a clear recipe that has to be followed.
Nevertheless, for me it was a nice chance to test the sleeklens Landscape Adventure Collection and I hope this little article was interesting for you, too. If you are interested in other bundles, check out the list of Photoshop actions at sleeklens.com.
I'm really curious to see if these actions find their way into my image processing workflow in the future!
---